It's the end of the 2015 ATP World Tour, with the ATP World Tour Finals finishing things off in London. Let's take a look at what happened in the final week of the season.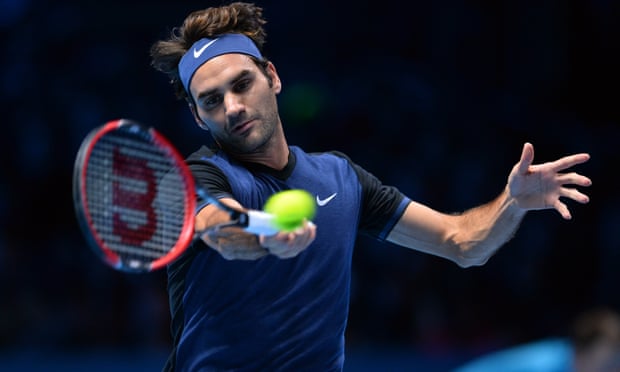 Roger Federer, © Glyn Kirk/AFP/Getty Images
The
Big Gainer of the week
for the final week is the losing finalist, Roger Federer. He won his group winning all 3 matches, inclusing a win over ELO #1 Novak Djokovic, and made it to the final, where he played Djokovic again, but unfortunately Federer couldn't beat Djokovic twice. His performance here gave Roger 26 ELO rating points, securing his ranking as the ELO #2, 109 points away from the #1 position.
The
Upset player of the week
this week is David Ferrer. He was expected to lose all of his games this week, and that's exactly what happened. David ends up as the upset player of the week as he was unlucky enough to be drawn in the "easier" group, and none of the higher ranked players in the other group did extremely badly. David lost 26 ELO rating points, and fell 1 places in my rankings to #7.
Other players who did well enough to gain ELO this week are the winner Novak Djokovic, Rafael Nadal and Stan Wawrinka.
Now, the full rankings.
| | | | |
| --- | --- | --- | --- |
| # | Name | ELO | ± |
| 1 | Novak Djokovic | 1974 | 0 |
| 2 | Roger Federer | 1865 | 0 |
| 3 | Andy Murray | 1821 | 0 |
| 4 | Rafael Nadal | 1788 | 0 |
| 5 | Stan Wawrinka | 1758 | 0 |
| 6 | Kei Nishikori | 1724 | 2 |
| 7 | David Ferrer | 1723 | -1 |
| 8 | Tomas Berdych | 1717 | -1 |
| 9 | Richard Gasquet | 1709 | 0 |
| 10 | Jo-Wilfried Tsonga | 1677 | 0 |
| 11 | Marin Cilic | 1676 | 0 |
| 12 | Kevin Anderson | 1671 | 0 |
| 13 | John Isner | 1663 | 0 |
| 14 | Milos Raonic | 1657 | 0 |
| 15 | Gilles Simon | 1637 | 0 |
| 16 | Roberto Bautista-Agut | 1633 | 0 |
| 17 | Jack Sock | 1627 | 0 |
| 18 | Gael Monfils | 1616 | 0 |
| 19 | Philipp Kohlschreiber | 1615 | 0 |
| 20 | David Goffin | 1615 | 0 |
| 21 | Steve Johnson | 1601 | 0 |
| 22 | Benoit Paire | 1600 | 0 |
| 23 | Grigor Dimitrov | 1600 | 0 |
| 24 | Ivo Karlovic | 1591 | 0 |
| 25 | Nick Kyrgios | 1590 | 0 |
| 26 | Feliciano Lopez | 1584 | 0 |
| 27 | Dominic Thiem | 1580 | 0 |
| 28 | Fabio Fognini | 1576 | 0 |
| 29 | Gilles Muller | 1575 | 0 |
| 30 | Joao Sousa | 1575 | 0 |
| 31 | Bernard Tomic | 1575 | 0 |
| 32 | Tommy Robredo | 1569 | 0 |
| 33 | Marcos Baghdatis | 1561 | 0 |
| 34 | Jeremy Chardy | 1560 | 0 |
| 35 | Guillermo Garcia-Lopez | 1550 | 0 |
| 36 | Thomaz Bellucci | 1545 | 0 |
| 37 | Simone Bolelli | 1543 | 0 |
| 38 | Vasek Pospisil | 1543 | 0 |
| 39 | Leonardo Mayer | 1543 | 0 |
| 40 | Andreas Seppi | 1541 | 0 |
| 41 | Victor Troicki | 1538 | 0 |
| 42 | Borna Coric | 1524 | 0 |
| 43 | Donald Young | 1519 | 0 |
| 44 | Pablo Cuevas | 1518 | 0 |
| 45 | Chung Hyeon | 1517 | 0 |
| 46 | Mischa Zverev | 1514 | 0 |
| 47 | Juan Monaco | 1512 | 0 |
| 48 | Alexandr Dolgopolov | 1511 | 0 |
| 49 | Jerzy Janowicz | 1507 | 0 |
| 50 | Teymuraz Gabashvili | 1506 | 0 |
| 51 | Pierre-Hugues Herbert | 1506 | 0 |
| 52 | Sam Querrey | 1506 | 0 |
| 53 | Denis Istomin | 1506 | 0 |
| 54 | Fernando Verdasco | 1503 | 0 |
| 55 | Rajeev Ram | 1502 | 0 |
| 56 | Alexander Zverev | 1500 | 0 |
| 57 | Evgeny Donskoy | 1499 | 0 |
| 58 | Nicolas Almagro | 1498 | 0 |
| 59 | Martin Klizan | 1497 | 0 |
| 60 | Lucas Pouille | 1496 | 0 |
| 61 | Sam Groth | 1496 | 0 |
| 62 | Aljaz Bedene | 1495 | 0 |
| 63 | Nicolas Mahut | 1494 | 0 |
| 64 | Adrian Mannarino | 1494 | 0 |
| 65 | Lukas Rosol | 1492 | 0 |
| 66 | Jiri Vesely | 1491 | 0 |
| 67 | Radek Stepanek | 1490 | 0 |
| 68 | Austin Krajicek | 1487 | 0 |
| 69 | Dusan Lajovic | 1487 | 0 |
| 70 | Victor Estrella Burgos | 1485 | 0 |
| 71 | Steve Darcis | 1484 | 0 |
| 72 | John Millman | 1483 | 0 |
| 73 | Federico Delbonis | 1482 | 0 |
| 74 | Robin Haase | 1481 | 0 |
| 75 | Tatsuma Ito | 1478 | 0 |
| 76 | Yen-Hsun Lu | 1478 | 0 |
| 77 | Mikhail Kukushkin | 1477 | 0 |
| 78 | Pablo Andujar | 1476 | 0 |
| 79 | Dustin Brown | 1476 | 0 |
| 80 | Thanasi Kokkinakis | 1475 | 0 |
| 81 | Marcel Granollers | 1473 | 0 |
| 82 | Michael Berrer | 1472 | 0 |
| 83 | Marsel Ilhan | 1471 | 0 |
| 84 | Sergiy Stakhovsky | 1470 | 0 |
| 85 | Albert Ramos-Vinolas | 1470 | 0 |
| 86 | Santiago Giraldo | 1467 | 0 |
| 87 | Jared Donaldson | 1467 | 0 |
| 88 | Ernests Gulbis | 1466 | 0 |
| 89 | Paul-Henri Mathieu | 1464 | 0 |
| 90 | Andreas Haider-Maurer | 1464 | 0 |
| 91 | Dudi Sela | 1464 | 0 |
| 92 | James Duckworth | 1463 | 0 |
| 93 | Andrey Rublev | 1462 | 0 |
| 94 | Malek Jaziri | 1461 | 0 |
| 95 | Ricardas Berankis | 1460 | 0 |
| 96 | Go Soeda | 1459 | 0 |
| 97 | Diego Schwartzman | 1456 | 0 |
| 98 | Denis Kudla | 1454 | 0 |
| 99 | Yuichi Sugita | 1452 | 0 |
| 100 | Blaz Kavcic | 1450 | 0 |
| 101 | Daniel Gimeno-Traver | 1447 | 0 |
| 102 | Pablo Carreno Busta | 1442 | 0 |
| 103 | Matthew Ebden | 1442 | 0 |
| 104 | Jarkko Nieminen | 1441 | 0 |
| 105 | Kenny de Schepper | 1439 | 0 |
| 106 | Benjamin Becker | 1437 | 0 |
| 107 | Tommy Haas | 1432 | 0 |
| 108 | Lleyton Hewitt | 1431 | 0 |
| 109 | James Ward | 1430 | 0 |
| 110 | Tim Smyczek | 1427 | 0 |
| 111 | Paolo Lorenzi | 1418 | 0 |
| 112 | Joao Souza | 1412 | 0 |
| 113 | Mikhail Youzhny | 1410 | 0 |
| 114 | Lukas Lacko | 1397 | 0 |
| 115 | Jan-Lennard Struff | 1379 | 0 |